Helge C. Balzer
Freelance Illustrator – Game:Movie:Book
Illustration, Concept Art, Art Direction
Studied Concept Art & 3D Animation at the Hochschule für Film und Fernsehen – Konrad Wolf, Babelsberg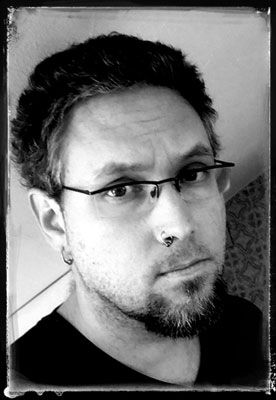 Biography:
Helge C. Balzer was born in Northern Germany. Even as a teenager he made short films and advertising spots and worked as a storyboard artist. He studied 3D computer animation and concept art at the Film and Television University Konrad Wolf in Potsdam Babelsberg (Hochschule für Film und Fernsehen Konrad Wolf). Helge then worked as a matte painter, modeller and animator for two years. Besides working as an artist on numerous international game productions, as a film director, production designer and producer he created and produced several short films, winning international prizes. Helge now lives in Marburg, Germany, working as a freelance illustrator, concept artist and art director in the movie- and games industry.
---
Home Labels:
ars atra
Phoenix Game Design
Amber Artworks Creative Film
---
Clients (no specific order):
Games Workshop Ltd.
Black Library
Big Point GmbH
Paizo Publishing, LLC (Pathfinder)
Fantasy Flight Games
Universal Studios
Virgin Lands
Gameforge AG
flaregames GmbH
Spellbound Entertainment AG
Ulisses Spiele GmbH
Mosaic Mask Studio (Heaven's Hope)
Mantikore-Verlag
Vedra Games
Verge Studios (Chromancer)
Uhrwerk-Verlag
Amizaras Mangement Service GmbH & Co. KG
Zaubermond Verlag (Bernhard Hennen, Die Elfen)
Daedalic Entertainment GmbH
InnoGames GmbH
Gamigo AG
Limbic Entertainment GmbH
Yager Development GmbH
Stormvision
Alderac Entertainment Group
Circles and Lines GmbH
Welt der Wunder / wdw digital GmbH
Linked Dimensions
Playdox
playDUcation
Morphicon Ltd.
plazz Entertainment AG
Instancefour GmbH & Co KG
Hellscreen Productions GmbH
Remote Control Productions GmbH
Scratch Verlag
Related Designs Software GmbH
SyncRage
fischerAppelt, furore GmbH
Weltentor GmbH & Co KG
Weltenformer GmbH
Voodoomaniacs
Boje Buck GmbH
TvT Postproduction GmbH
and many more …